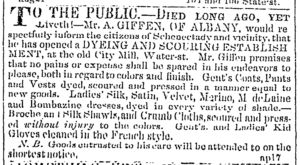 From the Schenectady Cabinet in 1855, this odd little advertisement that we suspect was meant to turn a particular phrase but which lost something in a spelling error: "Died Long Ago, Yet Liveth!" In reference to the dyeing and scouring establishment of Mr. A. Giffen at Albany's old City Mill on Water Street, we have to assumed it was meant that he "dyed" long ago, and then we could all appreciate the pun instead of being somewhat weirded out.
"Mr. Giffen promises that no pains or expense shall be spared in shis endeavors to please, both in regard to colors and finish. Gent's Coats, Pants and Vests dyed, scoured and pressed in a manner equal to new goods. Ladies' Silk, Satin, Velvet, Merino, M deLaine and Bombazine dresses, dyed in every variety of shade." And so on. A few years after this, in 1861, A. Giffen would still be in business, at 80 Beaver Street.
Lest you think he was the only dyer (or scourer) in Albany, please let us inform you of the miracle of steam scouring, and of the former editor of the Scientific American who came to Albany to die. We mean, dye.