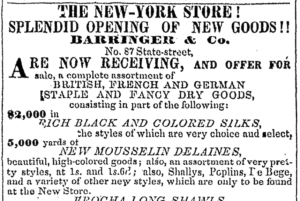 Back in 1855, one of the finest stores in Schenectady, New York, was Barringer & Co. ("The New-York Store!"), at 87 State Street. In this ad, they proclaimed that they were now receiving, and offering for sale (a good move, business-model-wise), a complete assortment of British, French and German staple and fancy dry goods, including rich black and colored silks, new mousselin (similar to muslin) delaines, brocha long shawls, cloths and cassimers, linen shirting and sheeting, and carpeting, oil cloth, matting and more. "The extent and variety of our stock, and low prices, are unequalled by any other house in the trade."
1855 happens to be the year that an ambitious gentleman by the name of Howland S. Barney bought into the Barringer Company; it would only be three years before he would buy out his partners and establish H.S. Barney Co. He built a landmark department store further up State Street in 1872; the building stands to this day, and Barney's still stands strong in the memories of Schenectadians despite having closed in 1973.

William Barringer may have gone on to other ventures; he was only 45 years old when Barney bought him out. In 1870, he was listed as a retired merchant with real estate worth $10,000 and personal property valued at $40,000, so the rag trade seems to have treated him pretty well. Born in Columbia County around 1810, he moved to Schenectady somewhere around 1837. He married a younger woman (13 years younger), and had sons late in life, when he was 43 and 45. In 1865, he was living with his sons (but no wife) at 2 Union Street, at the corner of Washington Avenue, a building of odd personal meaning to Hoxsie – in the 1970s, it was the home of the Schenectady County Council of the Boy Scouts of America, and much time was wasted there in important activities of the teen years. Decades later, it had been returned to use as a private home and, in one of those coincidences life throws at you, was owned by a friend and colleague.