From the New York State Archives, another brilliant aerial view of Albany, this one focusing on the Albany Medical Center, June 12, 1951. Unlike some of the other aerials we've looked at this week, this one doesn't look so terribly different in the present day. Of course, Albany Med has sprawled, and the foreground on this side of New Scotland Avenue has completely, and recently, changed. The land just beyond the hospital on the left, which was once home to the Bender Hygienic Laboratory and the second iteration of the Dudley Observatory, is now the home of the Capital District Psychiatric Center. But the neighborhoods beyond are largely unchanged today.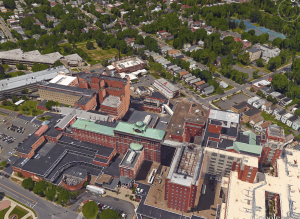 This is the Google Earth view today.
This was the Bender Hygienic Laboratory, about which Hoxsie keeps intending to write more. The laboratory was formed in 1895, the building completed by Albany architects Fuller & Wheeler in 1896. It served a role as an important public health laboratory for decades, and was the center of significant research.
Directly behind the medical center – anyone know what this building was?

And across the street, on the northeastern corner of New Scotland and Holland: greenhouses and farming. This mystery was solved with disappointing speed – these were city greenhouses to provide plants for Washington Park and beyond. Makes sense, given that this land was actually originally held by Washington Park. More photos of the city greenhouses on the Albany…The Way It Was Flickr site.