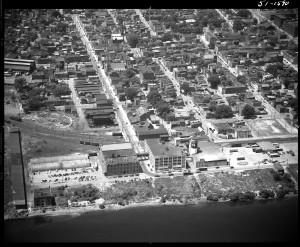 The New York State Archives digital collection includes a great number of aerial photographs of New York State locations from the '40s and '50s, including this shot that centers on the factory of B.T. Babbitt, Inc., makers of Bab-O. This was taken on June 12, 1952, before just about everything in the picture changed. (Click on the picture to see it larger.)
So, front and center and flanked by silos painted to look like cans of Bab-O cleanser are the three buildings of Babbitt's factory. Benjamin T. Babbitt did some manufacture of some sort in Little Falls before opening up a soap factory in New York City in 1836. He died in 1889, leaving no evidence that we've found of an Albany connection, so it's unclear just when this Albany industrial landmark opened or closed. But oddly, it's one of the few things that remains.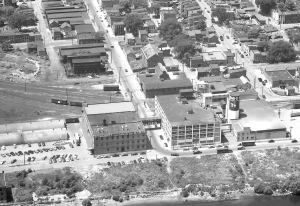 In this detail, you can see the three buildings close-up. Broadway is in the immediate foreground, separated from the river by scrub lots. To the south (left) of the factory complex, some long quonset huts. Directly behind it, the railroad tracks. On the left just beyond the tracks, you can see the H.S. Stuart coal yard, looking to already be abandoned. The street coming right down the center of the photo, going under Babbitt's impressive factory skybridge, is Fourth Avenue. The next to the right is Plum Street, then Bassett Street. It's all a familiar-looking mix of industry and old houses and places where things used to be, even in 1952.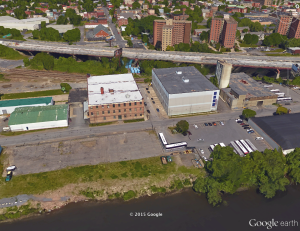 Through the miracle of Google Earth, fast-forward 63 years or so, and about the only things that are still there are the Babbitt buildings and the railroad tracks. And some of the scrub along the river's edge. The northernmost building appears to be a bus garage, with more buses parked across Broadway. The center building was recently converted into a self-storage facility. The quonset huts appear to have been replaced by other buildings of the temporarily permanent variety. Some of the railroad tracks remain, but beyond them, the overhead portion of I-787 soars over what used to be neighborhood, and to the west of that, dozens of houses were taken to be replaced by high-rise low-income housing projects. Here and there, an isolated building survived, more of them as you get closer to South Pearl Street, but the rest of it was just leveled, and replaced with something considerably less.
In the detailed view, some familiar buildings can be seen: